As you may already know from reading my biographical blurbs on this blog, I am a HUGE fan of amigurumi and anything kawaii.  In fact, stuffed "plushies" like these are some of my favorite things to crochet!  Although I've been crocheting since I was 7, I took quite a few large breaks from crocheting between the ages of 7 and 20.  Sure, I'd make a blanket or rug here and there, but it wasn't until my Junior year of college around 2010 that I started to get serious about acquiring some new crochet techniques.  What was the first crochet category that piqued my interest at that time?  You guessed it – super cute amigurumi toys.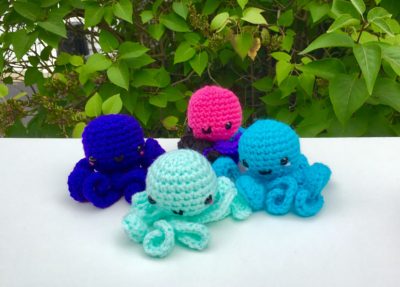 If you're new to amigurumi like I was way back in 2010, the idea of crocheting in the round, making appendages, etc. might seem a little daunting.  But don't worry!  These little octopus plushies are super simple to make, even for crocheters who are newer to the concept of crocheting anything besides a blanket or scarf.  Plus, they're fairly quick to work up, and absolutely ADORABLE to collect!
So grab your supplies and let's start making some….octopuses?  Octopi?  I guess?  Whatever, you know what I mean!  Let's do this!
(To download the ad-free PDF copy of this pattern, click here to purchase it for just $1.99 in my shop!)
Supplies:
Size D/3 (3.25 MM) Crochet Hook
Yarn Needle
Scissors
Fiberfill stuffing
9 mm Safety Eyes
(You will not need entire skeins of each color of yarns listed below)
Red Heart Super Saver in Turqua (turquoise octopus)
Red Heart Super Saver in Amethyst (purple octopus)
Loops & Threads Snuggly Wuggly in Soft Mint (green octopus [yarn available at Michaels Stores])
Red Heart Super Saver Stripes in Neon Stripes (pink/black/purple/blue octopus)
Small amounts of Red Heart Super Saver Black and Pretty N Pink for smile and blush
Abbreviations:
Beg = beginning
Ch = chain
Dec = decrease
Hdc = half double crochet
Rep = repeat
Rnd = round
Sc = single crochet
Sc2tog = single crochet 2 together
Sl st = slip stitch
St(s) = stitch(es)
Size:
About 4" in length from top of head to bottom of curled tentacles
Gauge:
Exact gauge is not essential to this project.
Instructions
Head
(Work in continuous rnds; do not join. You may find it helpful to use a stitch marker at beg of each rnd.)
Rnd 1 – Make a magic ring, 6 sc into ring.
Rnd 2 – 2 Sc in each st around (12 sc)
Rnd 3 – Sc in next st, 2 sc in next – rep around (18 sc)
Rnd 4 – Sc in next 2 sts, 2 sc in next – rep around (24 sc)
Rnds 5 – 10 – Sc around. (24 sc per rnd)
Rnd 11 – Sc2tog, sc in next 2 sts – rep around (18 sc)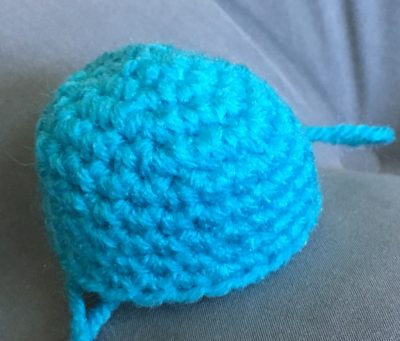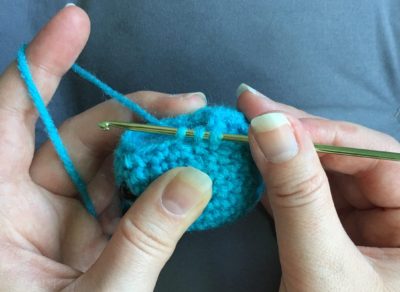 (The photos above show you what your work will look like after Rnd 11, and how to "squeeze" your work to keep your stitches tight and prevent gaps during your decrease rounds, respectively.)
Rnd 12 – Sc2tog, sc in next st – rep around (12 sc)
Stuff the head (do not overstuff!)Attach safety eyes between rnds 8 and 9, about 7 sts apart.
Rnd 13 – Sc2tog around (6 sc)
Sc2tog once more (5 sc). Do not fasten off.
Tentacles (make 8)
(Tentacles are worked up directly from the head)
Ch 12
Rnd 1 – In 2nd ch from hook, 2 hdc.  2 Hdc in each st across – do not work into last st (closest to base of octopus). Sl st into beg st of first tentacle (20 hdc)
Rnd 2 – Rep first tentacle, but finish with sl st into next sc at base of head (20 hdc)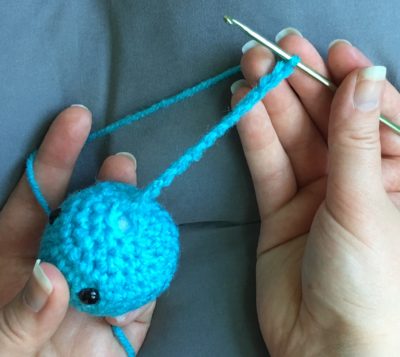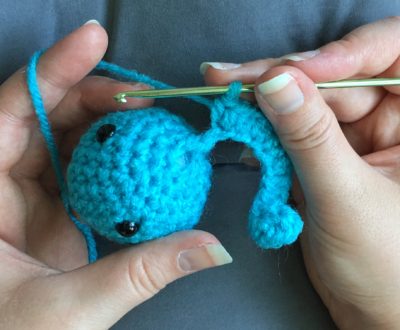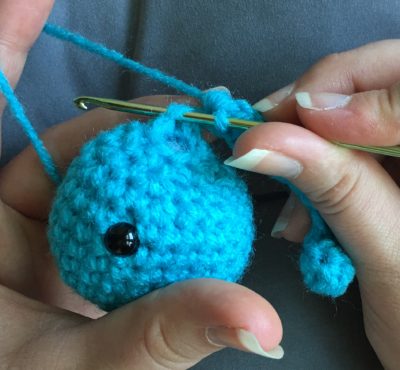 (Photos: Ch 12, end of 2 Hdc across in Rnd 1, sl st at end of Rnd 1, respectively)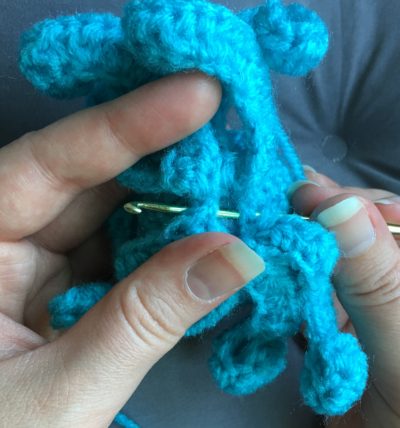 Starting with Ch 12 at the beginning of each rnd, rep Rnds 1 & 2 three more times.
Sl st to close gap: sl st from last remaining st on base into st directly across (see photo to the left)
Weave in ends.
Finishing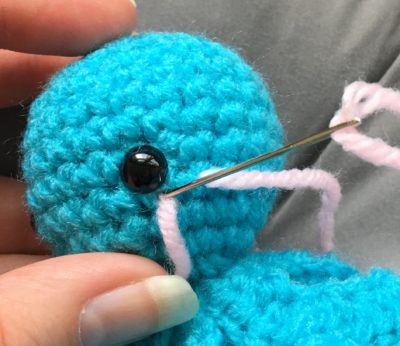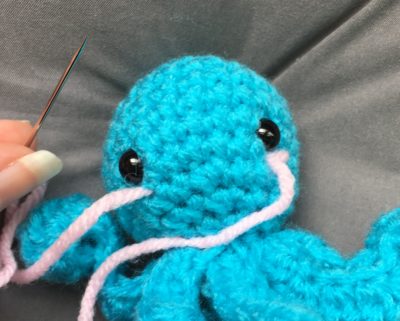 To make the blush, start underneath eye and cover about one sc st with the pink yarn.  Carry your needle over to the other eye and repeat.  Tie/hide yarn ends (see photos of tying/hiding knots from Smile below).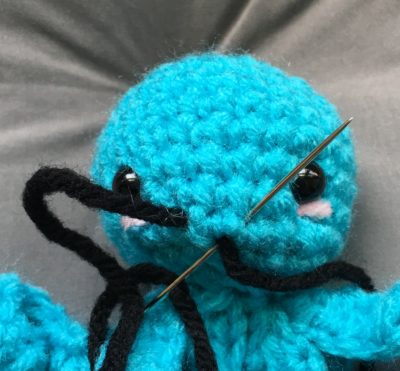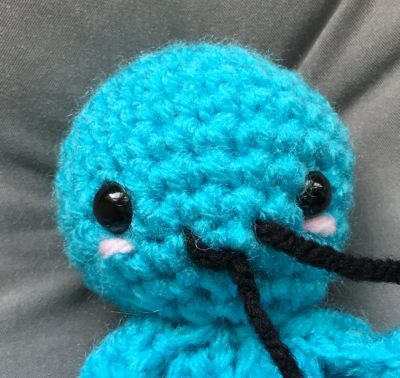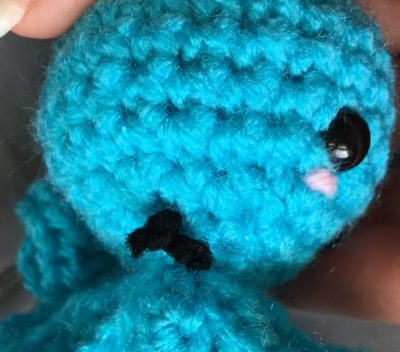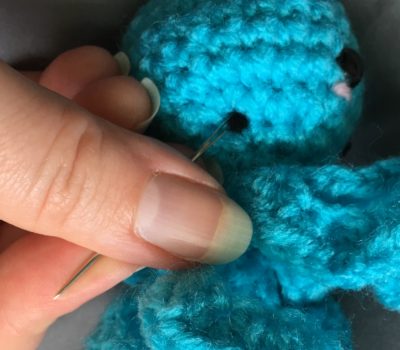 To make the smile, sew a tiny "v" shaped smile between eyes and carry both strands of black yarn into a st on the back of the head – tie two firm knots and use eye of needle to hide the knot inside st.
Here is the finished octopus and his friends!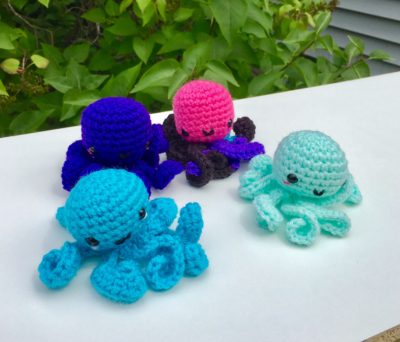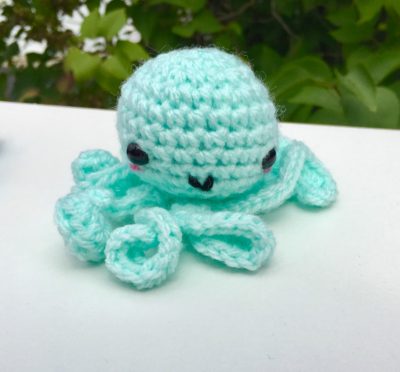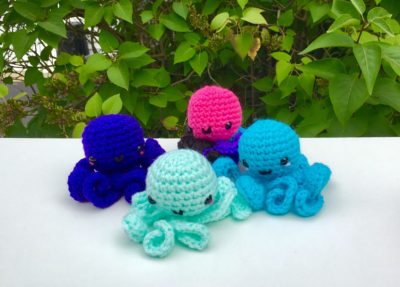 COPYRIGHT:
This pattern is owned by Crafty Kitty Crochet (Melissa Moore). Any reselling or distribution of this pattern is prohibited. Sale of items made using this pattern is welcomed, but I do ask that credit/a link be provided back to my site, craftykittycrochet.com.
Keep up to date with my crazy crochet life!